…by Marshall Johnson
The Italian Banda tradition: . Opera senza voci! …Opera without voices!
For more than 150 years the music of the Italian opera masters has been heard throughout Italy played by town bands, the bandi municipale.For many Italians the grand opera houses were too expensive or too far away for them to attend.   Local musicians played the "hits" of their day at band concerts in the piazzas: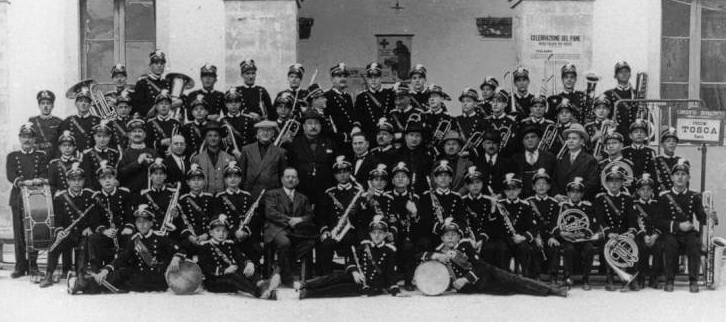 music from opera, classical symphonic music, religious music, and folk music, but mostly opera. The music was often transcribed for band (wind ensemble) by a member of the band; the vocal solos rewritten for instrumentalists who played in the same range as the original vocal parts.  In Italy, opera became a mass popular phenomenon andVerdi a national hero, in great part because of this banda tradition.
The Idea for a North American Banda Italiana: 2000.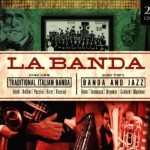 In the world music section at the old Hear Music in Berkeley I discovered a double CD called La Banda on enja records. (To buy)   The first CD (traditional Italian banda music played by Banda Citta Ruvo di Puglia from Apulia in southern Italy) inspired the solution to a problem I had been mulling over for a couple years:  how to offer Italian classical music to Youth in Arts' Italian Street Painting Festival in San Rafael (Marin County, CA). After listening over and over to this CD I decided that the answer was to form an Italian village-styled band.  First we would need sheet music.  I requested help from members of the Banda Ruvo, Pino and Livio Minafra, and received from them copies of their band's hand-written scores:arrangements of music from Bellini's Norma and Verdi's Quartetto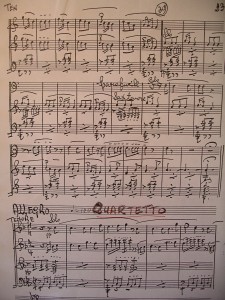 from Rigoletto, the pieces I loved most from their La Banda CD.  The encouragement and assistance I received from the Minafras has been an altogether delightful experience.
Banda Italiana di Marin, 2002:. the Beginning.
Hoping the scores would arrive soon by mail from Ruvo di Puglia, I went off in search of a band.  Doug Delaney, Music Department at the College of Marin, was my first stop.  I asked if he knew someone who might be able to conduct  an Italian  banda.  He answered that Adrian Quince, who sat next to me in the college concert band, was not only a good trumpet player, but a composer, arranger, and aspiring conductor.   Adrian eagerly accepted the challenge of helping to form a new band, and once I received the scores from Italy we recruited the first members from the college concert band and brgan growing from there.  The hand-written scores were exotic and beautiful to me and a few others, but were maddeningly difficult to decipher for most of the band.  We struggled through the first year and added a few Italian pieces from the standard American band repertoire.  The founder of the Italian Street Painting Festival, Sue Carlomagno, loved the idea
of the band.  We rushed our reherarsals to get ready to audition.  Lynn Callender and Mimi Murphy listened and somehow heard our potential and gambled that we would be ready in time for the Festival. We were a little rough the first few years, but that seemed to qualify us to begin to be part of the rural, amateur tradition of the Italian Banda.
2002 until 2007
For our first six years we concentrated our efforts on Youth in Arts' Italian Street Painting Festival in San Rafael, CA.     Photo below is from 2006: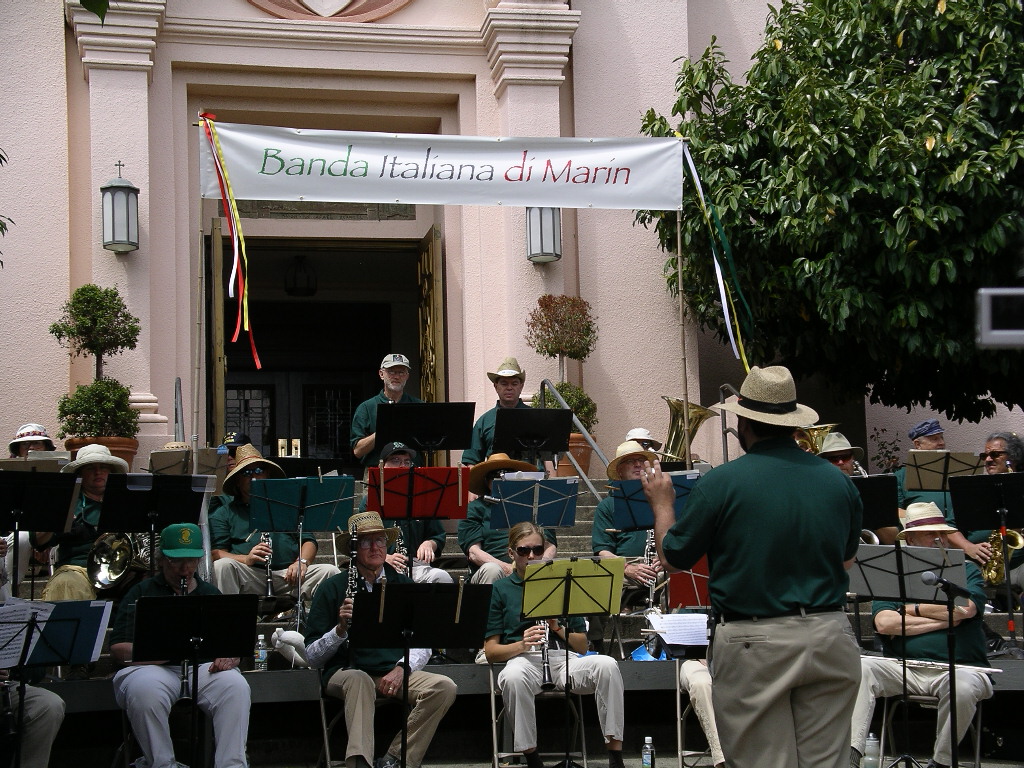 When that festival was over in June each summer we disbanded until February of the next year, when we began rehearsals again for the next summer's season.   Some of our other performances:  two years we played at the North Beach Festival in Washington Square, San Francisco; we played once at the Marin County Fair;  and three times under the redwood trees for Arlen Philpott's annual "Music in the Park" series in Fairfax, CA. (Photo below):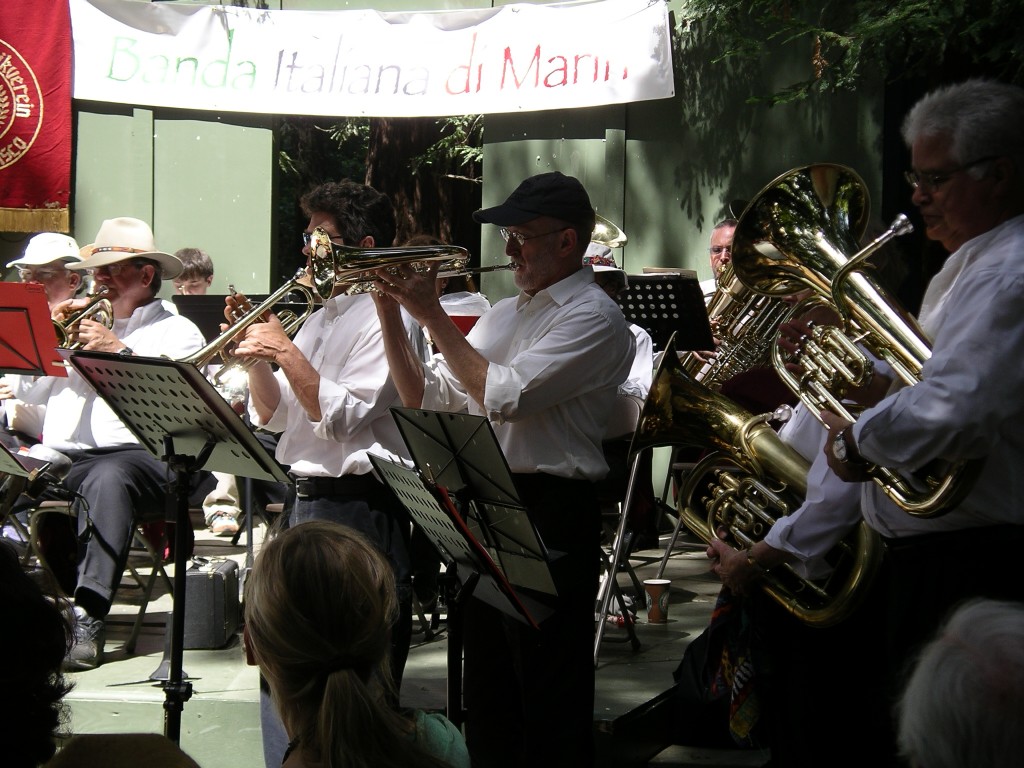 Note:If you know of another Italian Banda playing this kind of music in North America, let us know in the Comments / reply form below.  Thanks.